Keep Your Tires in Tip-Top Shape with the Service Team at Parkway Toyota
Your tires interact with the road whenever you take your Toyota vehicle out for a spin. Therefore, it should be no surprise that over time, they will start to wear down and become less effective. When this happens, there's no reason to panic. The expert service team at Parkway Toyota offers a variety of services, and we're happy to take a look at your tires and ensure that they are operating as they should be. Keeping your tires healthy and whole is important to keeping your vehicle in good shape.
Why Do Your Tires Need Regular Maintenance?
Your tires are important to your vehicle and how it performs. When your tires start to wear down and become less effective, it can have a profound impact on how your vehicle does. You might notice that you have difficulty controlling your vehicle especially when the road conditions are less than favorable, and you might even notice an impact on your fuel efficiency. When you get regular maintenance on your tires, you avoid these issues and help keep your Toyota operating at 100 percent.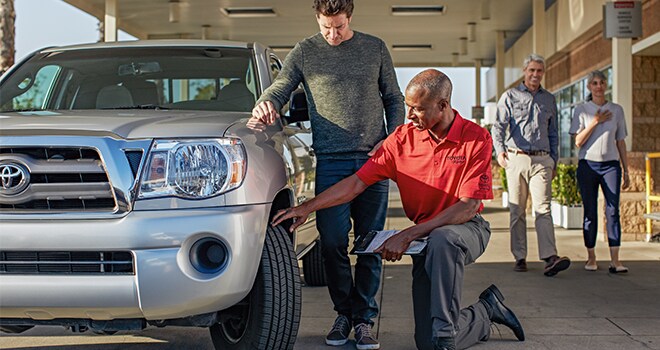 When Should You Replace Your Tires?
Keeping a sharp eye out for issues with your tires can help you prevent larger problems from occurring with them. A few signs that you might want to replace them include:
Tires are Bald
Your Vehicle Shakes when in Use
You Have Difficulty Controlling Your Vehicle
Cracks on the Sidewall of the Tires
When you notice any of these signs, it can be an indication that you're due for an appointment with our service team. You can confirm the need for a service visit by using a quarter to check the tread of your tires, as well. If you can see above the head of the quarter, it means your tread is low and in need of a change.
Find the right tires for your vehicle at our Tire Center.
If you want a quick and efficient service, the team at Parkway Toyota is ready to assist. We offer free lifetime rotations with your new tires and include a two-year road hazard service as well! Give us a call or schedule your next appointment online. We can't wait to help keep your vehicle operating at a high level!
---
Hours
Monday

7:00am-7:00pm

Tuesday

7:00am-7:00pm

Wednesday

7:00am-7:00pm

Thursday

7:00am-7:00pm

Friday

7:00am-7:00pm

Saturday

7:00am-4:30pm

Sunday

Closed