Explore Expert Oil Change Service with the Team at Parkway Toyota
Your engine has a lot of moving parts, and if things stop moving properly it can cause some serious issues down the road that lead to larger engine problems and expensive repairs. An oil change is important for many different reasons, and it's typically one of the easier services that our factory-trained team provides at our service center. Whether you need an oil change or you need one of the many other routine maintenances that we provide, we're happy to schedule you an appointment and get you in as soon as possible.
Why Is It Important to Have Your Oil Change Regularly?
Your oil provides a very important function for your engine. It ensures that all the moving parts are properly lubricated. If your oil has reached the end of its life cycle, it starts to lose its ability to keep the engine well-lubricated, and this can lead to parts grinding together and not functioning properly. If you don't get your oil changed roughly every six months, it can cause deeper engine issues that wind up costing you in expensive engine repairs.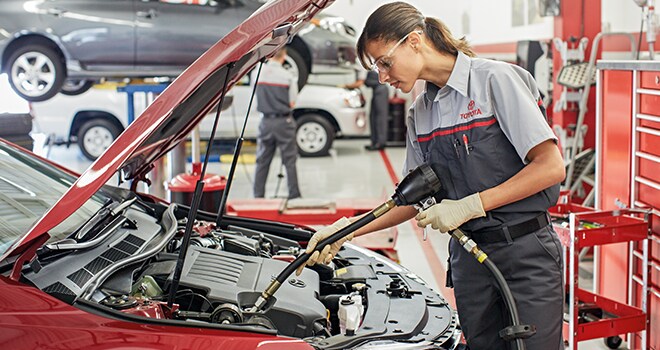 Signs You Need an Oil Change
There are a few indicators that your engine requires an oil change. Paying attention to these signs ensures that your engine operates at its peak performance level, and they can include:
Oil Color and Level- a dark brown or black engine oil means it's due for a change as does a low level
Louder Engine Noise or Knocking Coming from Underneath the Hood
Oil Smell Inside Cabin
If you happen to notice any of these signs pop up, give us a call, and we'll get you in to change your vehicle's oil.
Do you think it's time for an oil change? Even if you aren't sure, we're happy to take a look for you. We'll make sure your Toyota gets the proper oil blend that's perfect for its engine, and we'll get you an appointment that works with your busy schedule.
Hours
Monday

7:00am-7:00pm

Tuesday

7:00am-7:00pm

Wednesday

7:00am-7:00pm

Thursday

7:00am-7:00pm

Friday

7:00am-7:00pm

Saturday

7:00am-4:30pm

Sunday

Closed