Keep Your Battery Fully Charged with Toyota TrueStart™ Batteries and the Service Team at Parkway Toyota
Your battery does more than just provide the impetus to get your engine started. The battery powers all of the electronics inside and outside of your vehicle, and it's important to how your daily commute goes. Here at Parkway Toyota, our expert service team offers high-quality maintenance and repair work for your Toyota vehicle, and we only use genuine Toyota tools and parts to complete your service needs. Keep your battery operating at peak level with the service team at Parkway Toyota.
Why Is It Important to Change Your Battery Regularly?
Your battery offers power to everything in your vehicle, and as such, it can cause larger problems when it starts to fail. If your battery is on the fritz, it can cause the electronics in your car to stop properly working or they can intermittently work and become a frustrating issue. Your radio cutting in and out is annoying, but if your headlights were to start dimming, that can make things difficult and unsafe to drive at night. More importantly, when your car battery starts to fail, it can mean also mean your engine won't start. That could leave you high and dry at the worst time.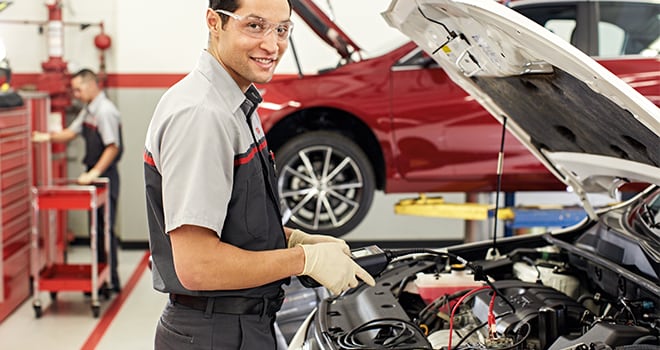 Signs You Need a New Battery
There are a few warning signs that might give you a sign that you need a new battery. They can include:
Dimming Lights or Technology Cutting In and Out
Difficulty Starting the Engine
Corroded Connectors on the Battery
If you happen to notice any of these issues, you should bring your vehicle to our service center, and we'll set you up with a new Toyota TrueStart™ battery.
At Parkway Toyota, we are happy to service your battery and keep your vehicle operating at the top level. With any new battery we install, we provide an 84-month warranty so you can be sure we're here if anything stops working properly. Swing by today and get scheduled for a service appointment at a time that works for you!
Hours
Monday

7:00am-6:00pm

Tuesday

7:00am-6:00pm

Wednesday

7:00am-6:00pm

Thursday

7:00am-6:00pm

Friday

7:00am-6:00pm

Saturday

7:00am-4:30pm

Sunday

Closed