Explore Expert Brake Service at Parkway Toyota
Your vehicle requires routine maintenance to keep operating at peak performance. When your brakes don't seem to be working properly, it can harm your ability to drive safely, and it might lead to more expensive repair work. The goal at our service center is to provide world-class customer service, and our factory-trained technicians employ state-of-the-art diagnostic and repair tools to get the job done. Every part of your vehicle deserves to be treated well, and that includes your vehicle's brakes.
Why Is It Important to Routinely Change Your Brakes?
Your brakes provide an integral part of operating your vehicle. You most likely use them daily, and they provide a necessary safety feature that helps you control your vehicle in most situations. If you don't get your brakes checked routinely, they can start to wear down and become less effective. When your breaks aren't in top shape, they become more likely to fail when they are needed. They can take longer to brake which could lead to accidents or serious damage to your vehicle. How often you change your brakes can depend on what type of driver you are or the conditions that you drive in, so make sure you pay attention to the signs that your brakes need service.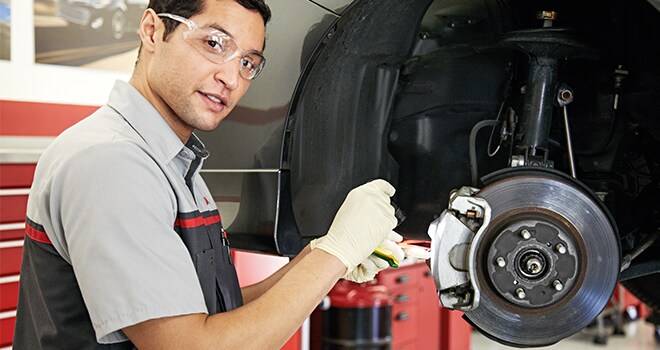 When Should You Replace Your Brakes?
There are a few warning signs you should watch out for when you think your brakes might need service. They include:
Squealing or Grinding Noise when Using Brakes
Vibration in Steering Wheel when Braking
Car Pulling to One Side when Braking
Takes More Time to Come to a Stop
If you notice any of these occurring, give our service center a call, and we'll set you up with an appointment to inspect the condition of your brakes.
When your brakes start to go, don't hesitate to get them checked out. Swing by Parkway Toyota, and we'll schedule you in at a time that's convenient for you!
Hours
Monday

7:00am-7:00pm

Tuesday

7:00am-7:00pm

Wednesday

7:00am-7:00pm

Thursday

7:00am-7:00pm

Friday

7:00am-7:00pm

Saturday

7:00am-4:30pm

Sunday

Closed